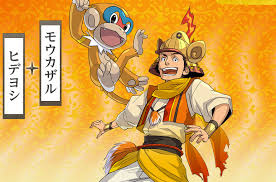 &nbsp
Hideyoshi is the leader of Ignis, and one of the un-recruitable warriors in the main story.
When the player starts, Hideyoshi sends 2 Warriors to conquer Aurora.This is a fail, as the hero and Oichi drive them off and eventually conquer Ignis. He flees the castle, where he manages to be recruited by Nobunaga. The player next encounters him in Viperia, where it is shown he has evolved, as well as his Chimchar. After losing again, he flees to Dragnor, where he is part of the final team the hero/heroine fights Nobunaga. His Monferno has evolved again, and proves to be a worthy foe. After the battle, Hideyoshi gets his castle back.
Best Link
Edit
During his Stage 1 period, Monferno is his best link. At stage 2, Monferno and Infernape are his best links. However, he needs Infernape to evolve. To get to stage 3, he needs a very good Link with Reshiram (80%). His list then expands to include Reshiram.
Hideyoshi is married to Nene, who is the warlord of Viperia
Hideyoshi has special diologue when challenging an arena with banners that is owned by Mitsuhide, and his partner Pokemon's energy is at max level. This is a reference to the Battle of Yamazaki, where Hideyoshi avenges Nobunaga after Mitsuhide betrayed him. The banners are a reference to Mt. Tenno, which Hideyoshi ends up claiming for himself during the battle.
Community content is available under
CC-BY-SA
unless otherwise noted.