All warriors have at least 1 Perfect Link Pokemon, and if Special Warriors get them, they can evolve. Here is a list of the Perfect Links:
Player 1-Eevee Player 2 and 3-Eevee/Eeveelutions Player 3-Arceus/Eevee/Eev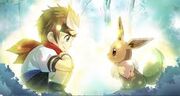 eelutions.
Nobunaga 1-Hydriegon Nobunaga 2-Hydriegon, Zekrom, Rayquaza
Oichi 1-Jigglypuff Oichi 2-Jigglypuff and Wigglytuff
Hideyoshi 1-Monferno Hideyoshi 2-Monferno and Infernape Hideyoshi 3-Monferno, Infernape, Reshiram.
Motochika-Dewott Motochika 2-Dewott and Samurott
Ginchiyo-Luxio Ginchiyo 2-Luxio and Luxray
Motonari-Servine Motonari 2-Servine or Serperior
Mitsuhide-Lapras Mitsuhide 2-Lapras and Articuno
Yoshihiro-Gurdurr Yoshihiro 2-Gurdurr and Conkeldurr.
Nene-Golbat Nene 2-Crobat
Shingen-Rhyperior Shingen 2-Rhyperior and Groudon
Masamune-Rufflet Masamune 2-Rufflet and Braviary
Kenshin-Gallade Kenshin 2-Gallade or Mewtwo
Yoshimoto-Pineco Yoshimoto 2-Pineco and Forretress
Ujiyasu-Boldore Ujiyasu 2-Boldore and Gigalith
No-Misdreavus No 2-Misdreavus and Mismagius
Kotaro-Zorua Kotaro 2-Zorua and Zoroark
Ieyasu-Aggron Ieyasu 2-Aggron and Registeel
Hanbei-Pikachu Hanbei 2-Pikachu or Raichu
Kanbei-Lampent Kanbei 2-Lampent and Chandelure
Muneshige-Staravia Munseshige 2-Staravia and Staraptor.
Gracia-Gothorita Gracia 2-Gothorita and Gothitelle
Hanzo-Haunter Hanzo 2-Haunter and Gengar
Kunoichi-Sneasel Kunoichi 2-Sneasel and Weavile
Yukimara-Charmeleon Yukimara 2-Charmeleon and Charizard
Magoichi-Grovyle Magoichi 2-Grovyle and Sceptile
Kanetsugu-Kadabra Kanetsugu 2-Kadabra and Alakazam
Aya-Snorunt Aya 2-Snorunt and Froslass
Kai-Darumaka Kai 2-Darumaka and Darmanitan
Okuni-Larvesta Okuni 2-Larvesta or Volcarona
Ranmaru-Riolu Ranmaru 2-Riolu or Lucario
Tadakatsu-Metagross Tadakatsu 2-Metagross or Dialga
Ina-Prinplup Ina 2-Prinplup or Empoleon
Keiji-Bastiodon Keiji 2-Bastiodon or Terrakion.
Mitsunari-Pawniard Mitsunari 2-Pawniard or Bisharp
Kiyomasa-Fraxure Kiyomasa 2-Fraxure or Haxorus
Masanori-Krokorok Masanori 2-Krokorok and Krookodile.
Community content is available under
CC-BY-SA
unless otherwise noted.